The Bombardier Challenger 604 features all of the comforts of large-cabin aircraft and the widest and tallest cabin in its class, but that's not the only reason that we love it. Challenger 604's bridge the gap between large-cabin amenities and super-midsize economies. For domestic or international travel throughout the Americas, and with as many as 8-12 passengers, this aircraft should be high on your wish list.
---
No more duck, dodge and twist every time you need to move about the cabin. The Challenger 604 is wide--wider than some regional jets.
LARGE, 115-CU-FT BAGGAGE SPACE
Pinstripes or plaid? Cart bag or travel bag? Why choose? Bring them both! The Challenger 604 has ample space for you and your guests' goodies.
---
ULTRA-QUIET AIRCRAFT INTERIOR
Big doesn't always have to mean loud. The Challenger 604's cabin ambiance is such that you can comfortably host a meeting or simply catch a few z's (or catch a few z's if it's a really boring meeting).
---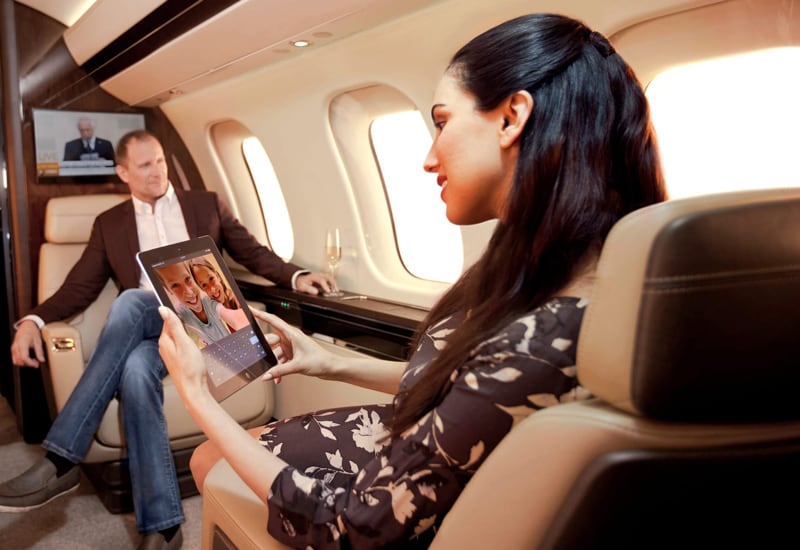 GLOBAL BROADBAND INTERNET SERVICE
Your business and entertainment doesn't have to stop at international waters. Through Honeywell's JetWave™ satellite-based broadband service, enjoy internet speeds fast enough to video conference, stream HD video and more.
---
EXPANDED FUEL CAPACITY &
MORE POWERFUL ENGINES
The Challenger 604's impressive 4,000nm range puts everywhere in North and Central America in non-stop range. With its General Electric CF34-3B engines it puts out a combined 18,000 lbs of thrust (do you like it when we talk nerdy?).
Featuring JetWave Broadband Internet.